WE DESIGN • WE DEVELOP • WE ADVISE
The One Steel Project Sdn Bhd is one of the few professional pergola renovation companies that has mastered the three specialized areas in glass, metal and aesthetic design.
Founded in 2006, The One Steel Project is a specialize exterior design in all kind of metal roof. We own two double-storied factories in Pusat Perindustrian Sungai Chua, Selangor. Occupying a land area of 4000 square foot.
We have 50 well-trained technicians who are highly experienced and skillful. Our fine handiwork has earned us well-placed trust among our customers.
We are able to specialize exterior design in all kind of metal roof due to having all the right conditions to do so. We know metallurgy well. We are good at aesthetic designing and our skillful technicians add a great deal of plus points, making The One Steel Project Sdn Bhd a true specialize exterior designing all Kind of metal roof.
Besides being a glass pergola specialist, The One Steel Project has another special production line to cater to factory buildings (metal trappings), in which we are also highly well-versed.
This special department, manned by specialists and well-trained technicians, deals with all sizes of metallic plant construction projects such as steel bars, iron roofing, iron fencing, stair railings etc.
As an experienced expert in metallic plant construction, we have developed our building process into a standard operation procedure (SOP) and stocked up adequate building materials to ensure that we can fully satisfy every diversified requirement of the customer with reliable and exquisite handiwork as well as prompt fulfilment of deadlines.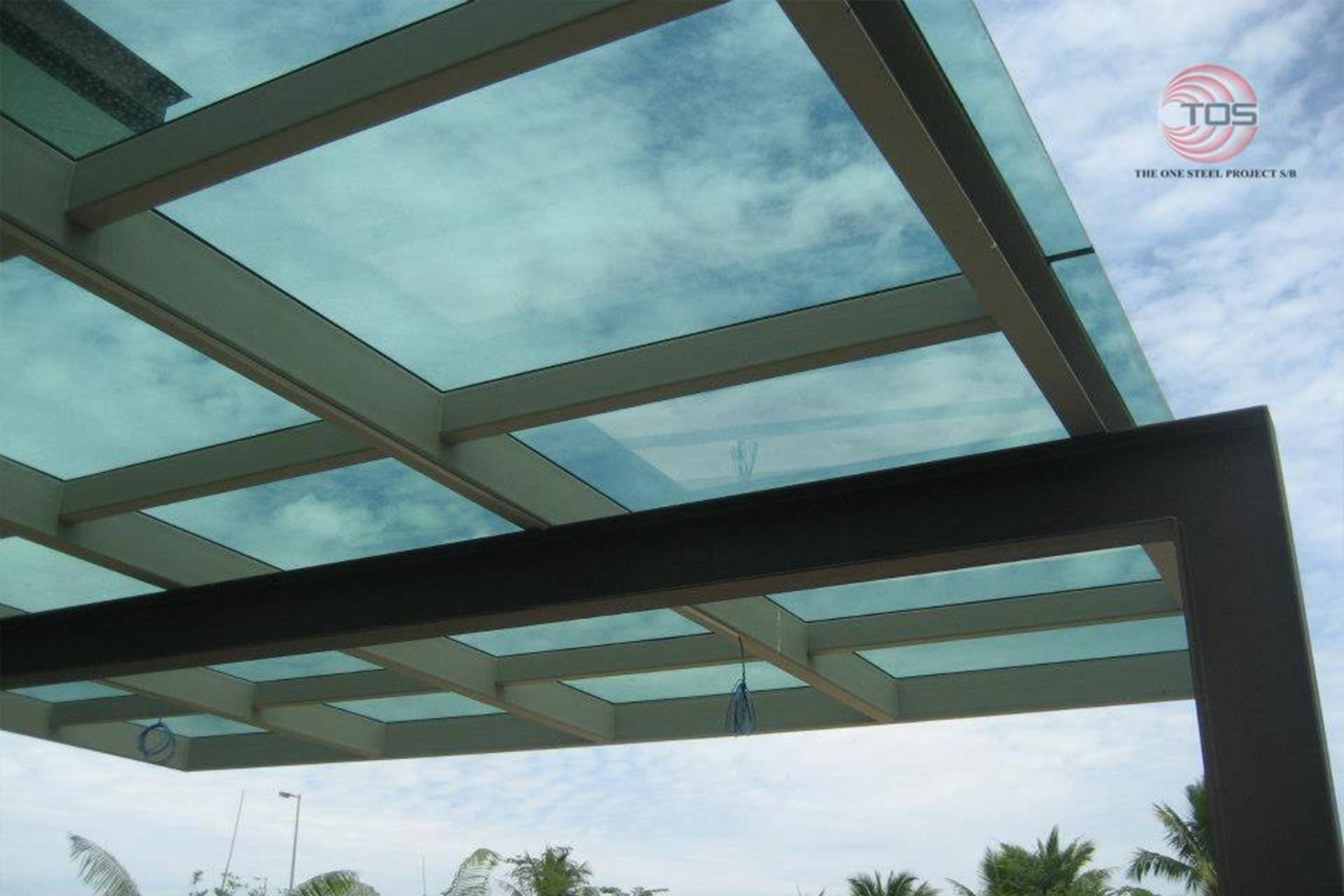 T
he core material for glass pergolas is of course, glass. There are various types of glass but, as a pergola specialist, we only use 'safe glass' for the safety of our customers and their family members.
By 'safe glass' is meant the type of glass used to make car windscreens, which will not be smashed into bits and pieces even when hit by a stone. To be more precise, the type of glass we use is thicker, tougher and safer than ordinary car windscreens.
We are one up on competitions because we can give our customers a wider choice in thickness, colour, pattern and framework design to enliven their homes. Within our special capability, we shall strive to satisfy your every need for glass pergolas.
Welcome to our sales gallery. Our salespeople would be more than happy to explain pergola designs and glass materials to you.
UNIQUE FEATURE OF GLASS PERGOLAS
Glass pergolas are the most popular pergolas at the moment, highly recommended by interior designers. Not only are they extremely practical, they are also very elegant, perfecting the style of your home.
Glass pergolas are well-loved by most interior designers because of the following 8 outstanding utilitarian characteristics:
1. The material and design can highlight the house owner's elegant taste and chic style, making the façade more extravagant and presentable.
2. Safe glass looks much more natural without processing (e.g. spray paint), and is easy to maintain.
3. To a certain extent, safe glass is more durable than iron pergolas and hence more economical.
4. Fine hand-crafted glass pergolas, with their intrinsic strengths, are definitely safe.
5. Glass pergolas give a much cooler environment than iron ones.
6. On a rainy day, glass pergolas are much quieter than iron ones.
7. Since glass pergolas are transparent, they allow in more daylight and cut down power consumption during the day.
8. The One Steel provides a variety of choices in glass thickness, colour and pattern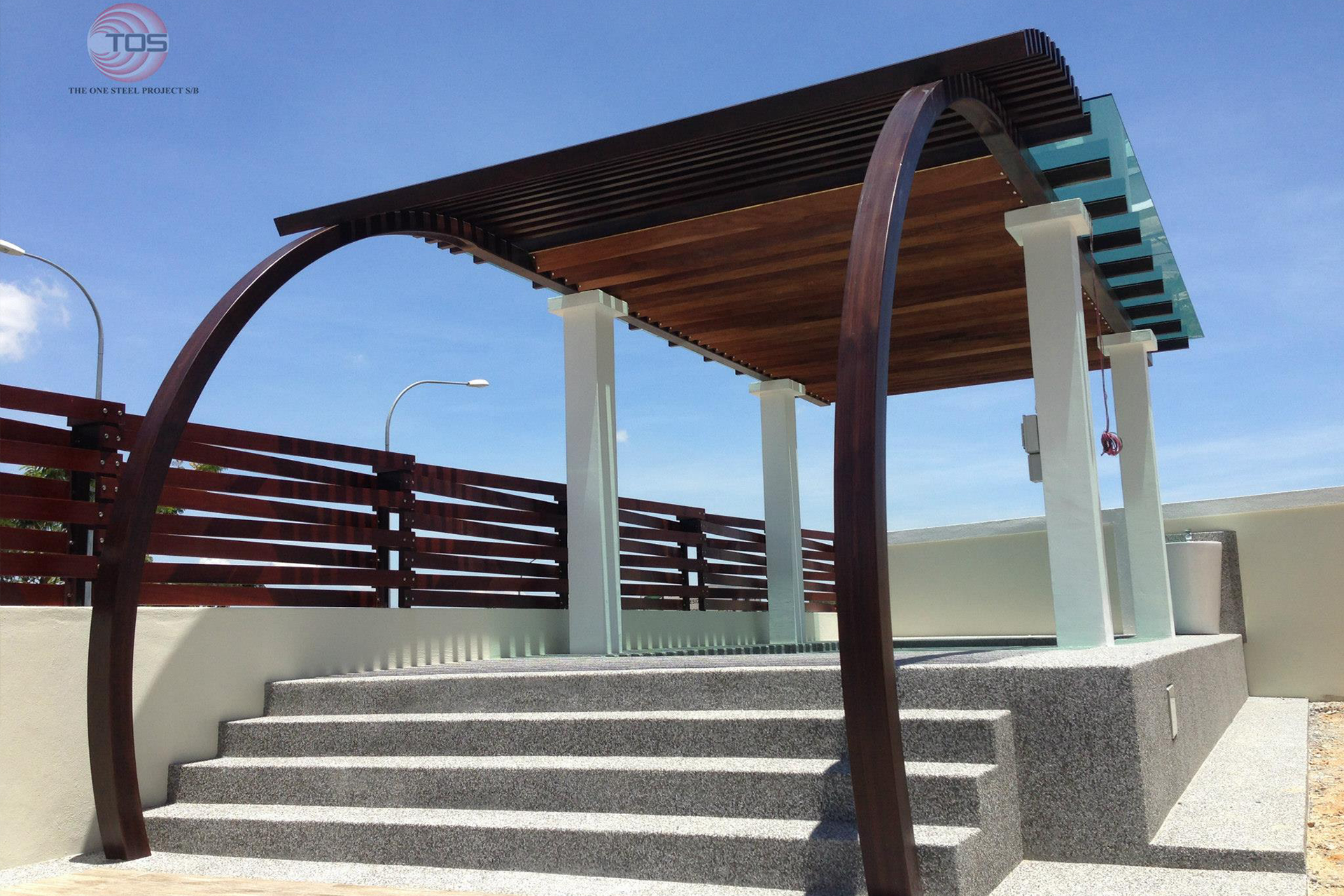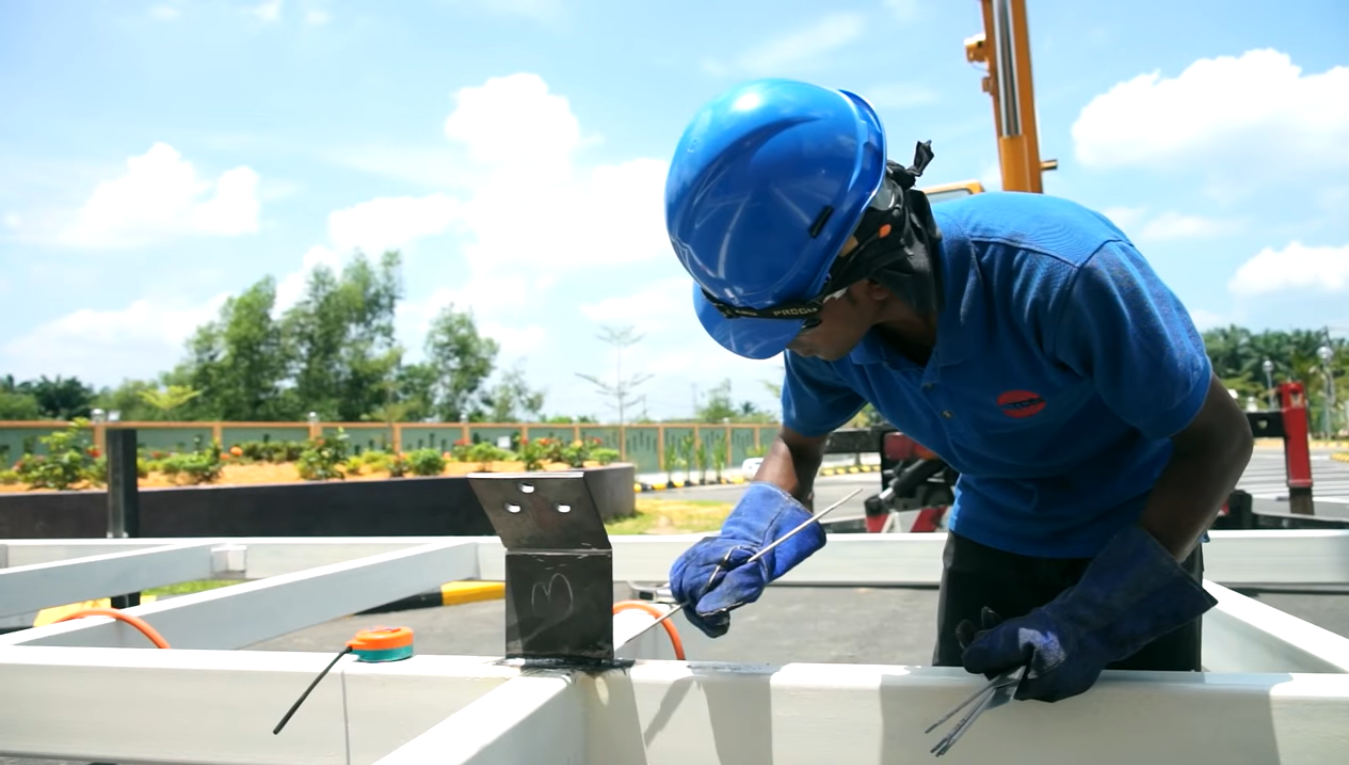 Different from simple traditional pergolas, the making of glass pergolas requires great mastery in glass technology, metallurgy and aesthetic designing. It takes a versatile technician who is well-trained in all three fields to accomplish a satisfactory handiwork.
The One Steel Project's brand value is reflected in our work quality and exquisite workmanship. Every technician is well-trained to create a product from start to finish. Furthermore, we use only the best material and are meticulous in our designing, manufacturing and installation. In a nutshell, we give only the best to our customers.
The factories are segregated into various departments e.g. glass treatment and iron structures, with each department staffed with qualified and specially trained technicians. Each department, operating on a standard operation procedure, has experts looking into the finer details in order to deliver every value-for-money pergola in its ultimate perfection.
We pride ourselves on superior work quality and more importantly, our invaluable expertise accumulated over the years. Our invaluable expertise, though intangible, serves as the best guarantee for every assignment. The One Steel Project, The One Quality that you can trust in glass pergolas!
Our Mission
We forge meaning connection with clients to revolutionize the way exterior design are envisioned and created in order to practice humility and mindfulness in our works so to achieve a higher purpose
Our Vision
To be one of most valued exterior design roof company in the market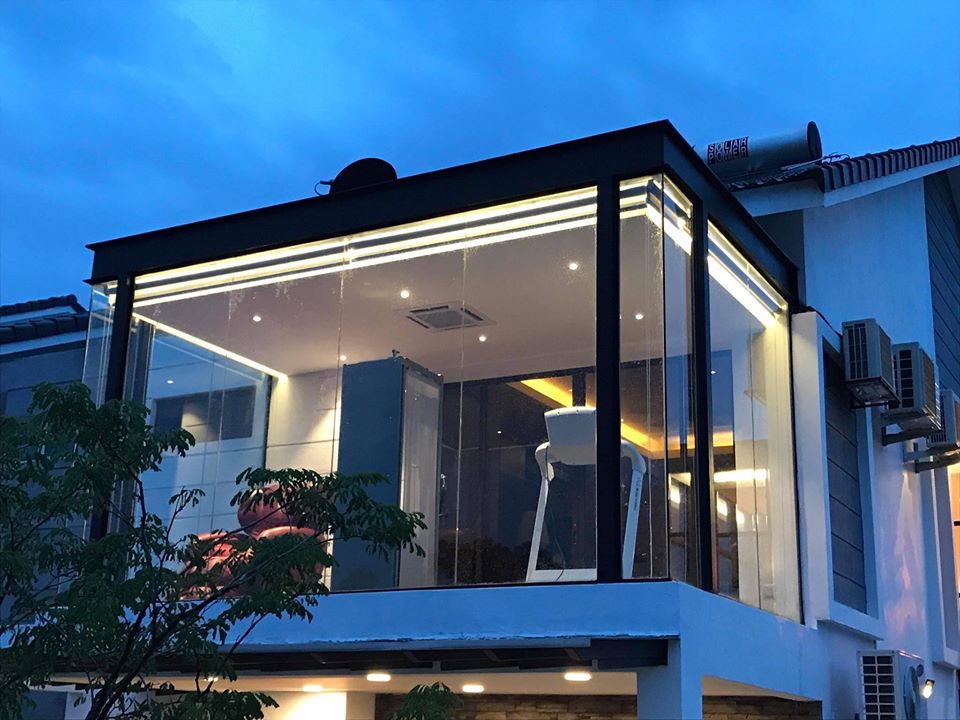 Our project management and execution philosophy is:
• Create details schedule and resources plan to meet client's project objective
• Communicate clearly with all trade vendors and/or client
• Track project progress and fine-tune deviations
• Supervise closely on quality of work done
• Complete and commission the project within time frame
We take pride in our delivery, thus our clients can always be assured that only the most experienced and qualified people are serving them at all time.
CONTACT US
---
THE ONE STEEL PROJECT SDN BHD ( 1036663-V )
No. 3 & 5, Jalan SC 5/B,
Pusat Perindustrian Sungai Chua,
43000 Kajang, Malaysia.
Register Number (0120180716-WP014201)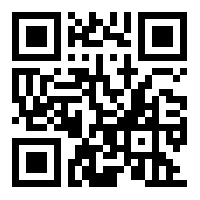 CONTACT
---
THE ONE STEEL PROJECT SDN BHD ( 1036663-V )
No. 3 & 5, Jalan SC 5/B,
Pusat Perindustrian Sungai Chua,
43000 Kajang, Malaysia.
Register Number (0120180716-WP014201)